It's time to vote for the winner of the 2020 T-Shirt design contest. Voting is open now and will continue until February 14.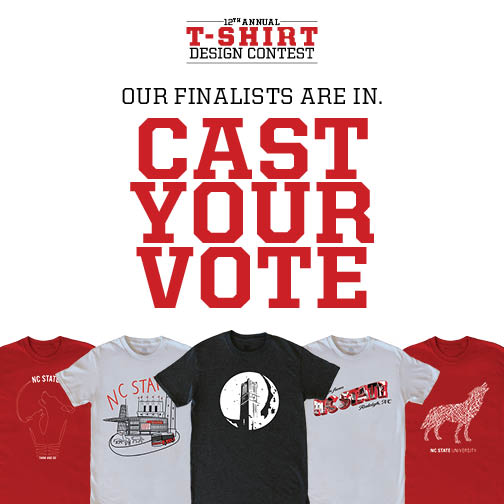 Once the voting period is over, the winning shirt will be revealed during a first-half timeout at the NC State vs. Florida State men's basketball game on February 22. The shirt will immediately be available on the PNC Arena concourse Wolfpack Outfitters, and online at shop.gopack.com.

With more than 100 t-shirt design submissions from 65 students, this year's field has been the biggest in the history of the competition. A panel of judges narrowed the field to five.

Jeff Halliburton, director of NC State Stores, explained what the panel looked for when narrowing down the submissions.

"Our internal team looks for designs that are printable, marketable, and original," he said. "We pick shirt designs that we know Wolfpack fans will wear and love. After selecting the final five shirts, it is up to the public to choose the ultimate winner."

Halliburton also mentioned he is particularly excited about this year's competition.

"In the past, we have had awesome submissions, but this year stands out," he mentioned. "It was tough to pick only five because there were so many great designs to choose from."

This year's winner will receive a $250 gift card to Wolfpack Outfitters plus five shirts bearing their winning design.