Wolf Xpress, NC State's on-campus print and copy shop, is well known for its traditional print services. Recently, however, the team helped Multicultural Student Affairs to realize a vision for its display during the NC State's Latinx Heritage Month Celebration that runs September 15 through October 15. This year's theme is "Latinxistence: Estamos Bien," which centers around the current realities of being a young Latinx person in the world we live in today.

The branding was designed by a student committee in Multicultural Student Affairs led by Marcela Torres-Cervantes. It was inspired by a popular saying in Mexico that has become more known in the United States: "They tried to bury us, they didn't know we were seeds. We are now seeing the growth of our seeds into flowers." To that end, a consistent element in the design was distinctive floral images depicting this blooming and growth.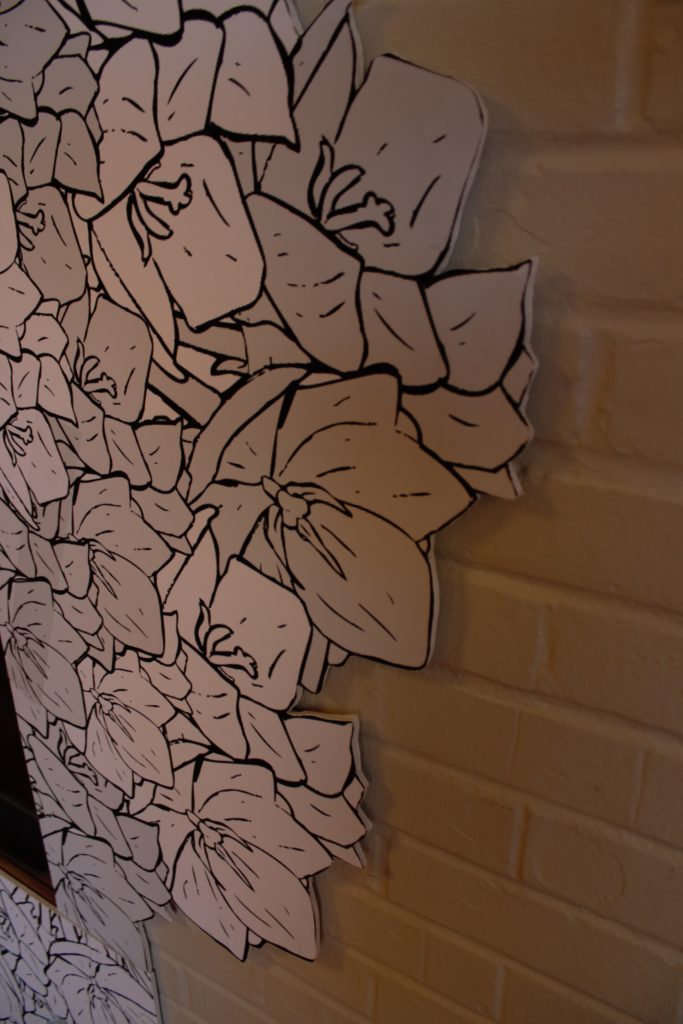 Marcela and her team turned to Wolf Xpress to bring these beautiful images into reality. Wolf Xpress created a wonderful interpretation of this feature, adorning the edges of the display case.
The LatinX Heritage Month display in Nelson Hall was developed in partnership with colleagues from Poole College of Management, specifically Tayah Butler, director of diversity and inclusion. The display unveiling has become an annual tradition, bringing back alums and highlighting stories of resilience and perseverance.
Much of the production was handled by student employee Patrick Burton. Burton, a senior studying industrial design, is responsible for the custom job, spending several hours cutting and sanding each piece to perfection.
The flowers were printed on heavyweight matte paper, then mounted to foam core. This gave the art its sturdiness. Burton then patiently trimmed the installation with a hot X-Acto knife, sanding the edges to ensure there was no fraying. The entire process took approximately six hours.
"I enjoy getting to work on a variety of projects," he mentioned. "Customers are always coming in with unique requests and I enjoy the problem-solving process. Most of all, however, the Wolf Xpress team is just a really great group to work with."
Wolf Xpress is here to support the campus community no matter how big or small the job. They are located on the main level of Talley Student Union. For more information, visit wolfxpress.ncsu.edu.