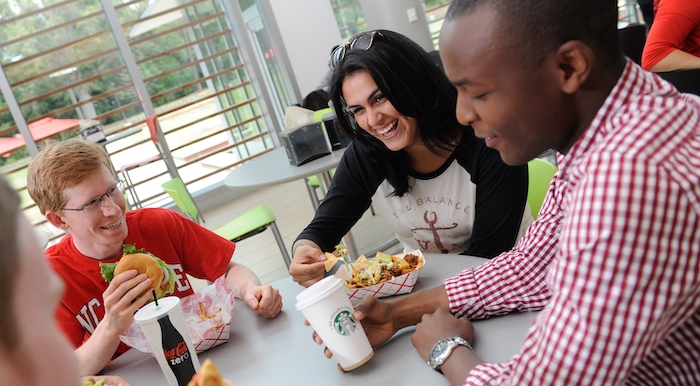 Get Oriented
We are Campus Enterprises, but you will better know us as Wolfpack Outfitters, Dining, Student Centers, the Wolfpack One ID Card and more during your time at NC State. We create a vibrant live, learn, work and play environment for our campus community, with inviting spaces, helpful products and services, and extraordinary guest experiences. We offer great jobs for students, too.
If you haven't already, be sure to complete our modules in the Online Orientation Platform. (You should have received an email from New Student Programs about how to do so). And if you have questions, consider signing up for one of our Transition Talks on the following topics in June and July:
Dining and Wolfpack One Card
Wolfpack Outfitters and Campus Computing
Nutrition and Allergen Support
On-Campus Student Employment
Join Registered Dietitian Lauren Smith for an interactive tour of Fountain Dining Hall. Learn about our menu offerings, how we label food allergens, and experience one of our most popular dining facilities from the comfort of your home.
To ensure you're ready when you arrive on campus, we're providing some helpful resources. Key action items are listed below:
Acquaint yourself with the various card functions.
Upload your photo.
Add funds to the All Campus account. This is especially important if you plan to use campus printers (WolfPrint), which only accept All Campus as a form of payment.
Learn how to care for your card and report it lost or stolen.
Learn about how to link your card to a new or existing PNC Bank account.
Learn more about our vast array of options. Then consider your eating habits, housing assignment and class schedule (received during orientation) to determine the best plan for you.
Visit go.ncsu.edu/mealplans to make your selection and register online. Charges will be sent to the cashier's office for processing, and your selection will be active the first day housing is open.
Download the NC State On Campus App for menus, nutrition information, allergens and more.
Ensure your laptop meets your college's requirements. Visit our flagship operation in Talley Student Union or shop.ncsu.edu for options and to take advantage of low educational pricing. We carry Apple, Dell and Lenovo.
Use our price comparison tool to get the best prices and options on course materials. You can also consider our All-In digital course material delivery, which saved NC State students $1.8 million in 2019 alone as compared to traditional print materials.
Working for Campus Enterprises offers the convenience of working on campus
Visit go.ncsu.edu/ce-jobs for more information