A spring day at NC State typically has the NC State Campus Enterprises division hopping, feeding students, hosting events, getting students ready to graduate with regalia, preparing for orientation and more.
In early March, however, with a coronavirus pandemic beginning to take root, NC State joined other universities across the nation and moved academic classes online and provided housing only to students who had special needs or circumstances.
It was during this time that the course of business in Campus Enterprises took a sharp turn toward meeting only acute and essential needs of the students and campus. Here are a few stories from the frontlines of the Campus Enterprises team continuing to work on campus.
FOUNTAIN DINING HALL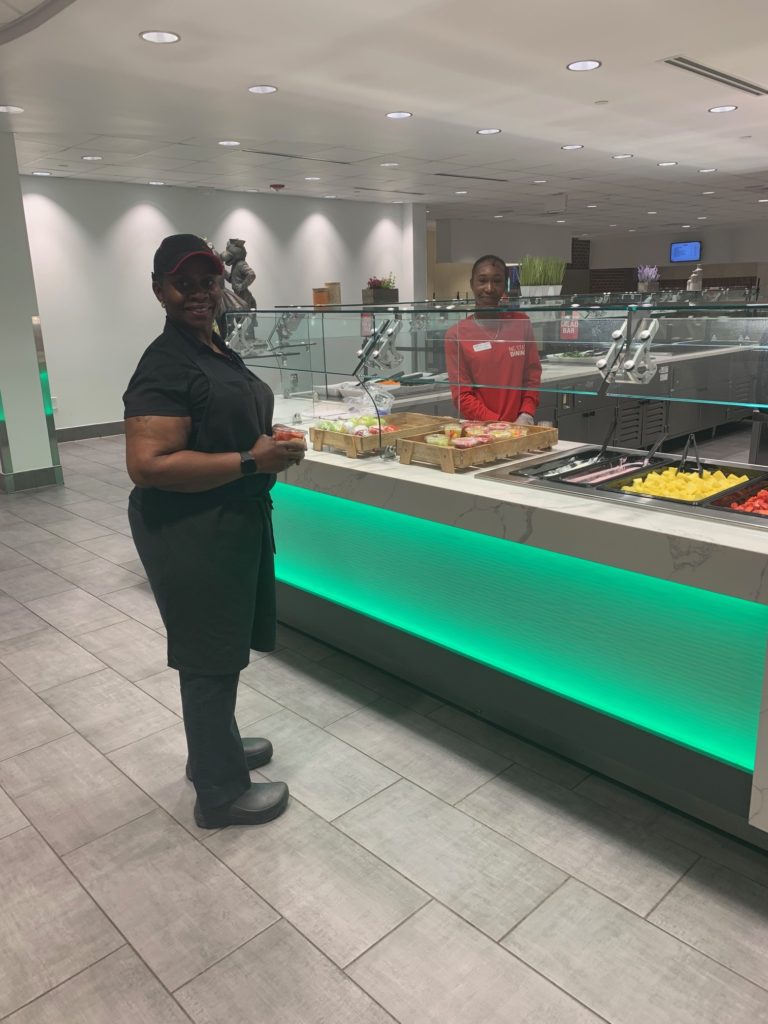 Dining operations on campus have been concentrated to Fountain Dining Hall and Bragaw C-Store as only 750 students and a skeleton crew of campus staff members remain on campus. Keith Smith, director of board operations, and the other dining directors have pulled together roughly 48 people from across NC State Dining to form three teams that work two 10 hour days every four days.
"It's a really good representation from across campus," he said. "Everyone is pitching in, and they've had a great spirit about them. And on the positive side, we have people who have worked in the same organization but not together getting to know one another a little better."
The team has been additionally challenged to create menus out of product that was already on campus when everything began to shut down. "The only thing we really have to bring in fresh produce for the salad bar and other dishes," he said.
What's on the menu these days? "Well, it's often, a few fresh fruit items along with yogurt parfaits, hamburgers, hot dogs, and grilled chicken," he explained, "plus a homestyle like featuring a veggie, starch, entree, a pasta, and sauce. We usually add a wrap or a quesadilla to round it out. We are looking to add a saute station this week."
Students and staff who dine at Fountain are encouraged to wash their hands before they come, use hand sanitizer, then come in and ask a server to fill a cardboard take-out container. They can also take some wrapped cutlery and a beverage before they go.
More:
NC State Dining shows students at home how to make a Boom Boom wrap >>
Fountain Dining Hall's Ms. Angie demonstrates how to get a meal at Fountain >>
Candi and Quentin encourage students to stay safe >>
CONVENIENCE STORES AND FEED THE PACK FOOD PANTRY
At the beginning of the COVID-19-related shutdowns, the only C-Store left in operation was Talley Market, with a steady stream of students and parents stopping by to get that last scoop of Howling Cow ice cream before heading home for the semester.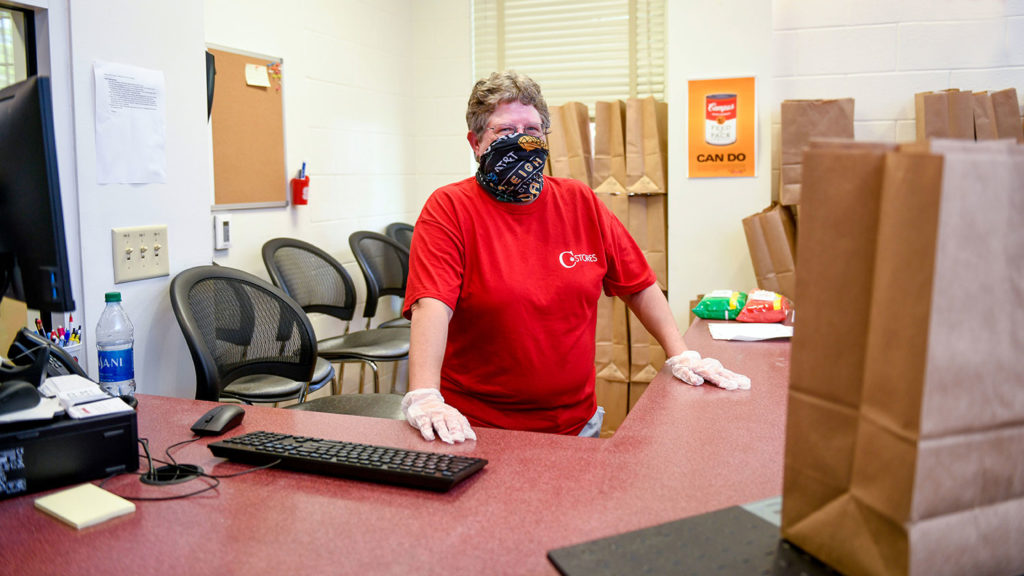 Denise Fields and her C-Store team were also working behind the scenes to re-boot the Feed the Pack Food Pantry, which has served over 170 individuals a week in the pop-up version providing service on Tuesdays and Fridays. The donations provide much-needed support, and the addition of produce and perishables ensure that as we protect our pack, we also keep them healthy.
"The pantry is near and dear to my heart," said Shawn Hoch, senior director for hospitality services. "When the university asked us to help get it back up and running, we didn't hesitate. I am proud of the team's efforts and commitment to serving those in need on our campus: great hospitality and a great attitude all around."
More:
Feed the Pack Food Pantry Rallies to Stay Open >>
GOLF
The Lonnie Poole Golf Course was already preparing for a busy spring season with leagues and tournaments. Now it is considered an "essential business," with its wide-open spaces that allow for exercise and recreation at a safe distance from others.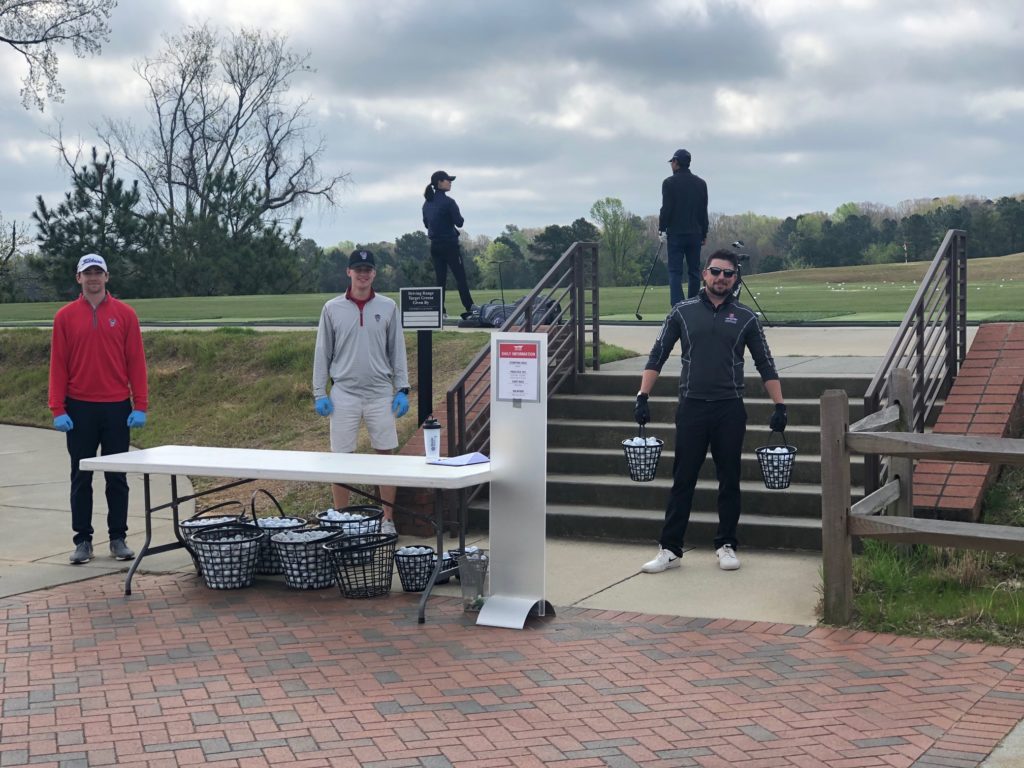 The clubhouse is closed, with the exception of restrooms and the snack bar, and the staff greets players from the back patio, delivering buckets of balls straight to the driving range, where players are spread out farther than normal to ensure plenty of space for social distancing.
Only household members can ride on a cart together, and many things, such as rakes and sand containers have been removed to reduce the chance of cross-contamination. Players are encouraged to leave the pin in place; a cut pool noodle wrapped around the pin ensures the ball doesn't go too deeply in the cup.
So far, the overabundance of precaution has been successful in keeping the fairways and greens open, and business has been slower, but steady.
"It's about giving people a place to go for an outdoor activity, to help with both their mental and physical health," said Chip Watson, general manager.
More:
Lonnie Poole Stays the Course — With Precautions >>

DELIVERY AND LOGISTICS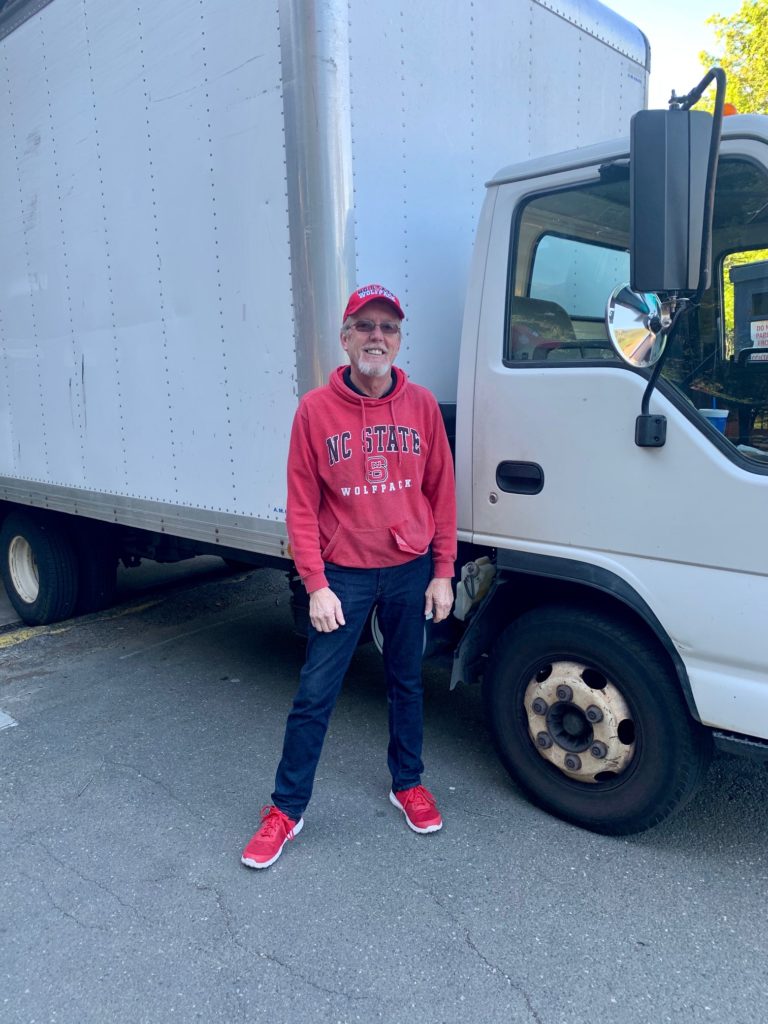 Speaking of delivery, it's usually Bob Lewis who is ensuring dining and catering deliveries are made according to a strict schedule. During a pandemic, it's no different. Bob is responsible for keeping those white box trucks moving about campus early in the morning, most days starting at 3 a.m., thanks to a fleet of drivers he coordinates.
These days Bob is a team of one, but instead of the hustle and bustle of events, he is out making sure that critical needs of our campus community are being met.
The past couple of weeks, Bob is out gathering produce, perishables, and non-perishable donations for the Feed the Pack food pantry. He's made trips to U.S. Foods, Fresh Point and other food distributors to get food for campus and for the pantry.
"Bob is a 'yes I can do it' kind of guy. Nothing is impossible," said Keith Smith. "It makes our jobs easier for sure. We couldn't do our jobs without him."
QUARANTINE MEALS
Imagine having your study-abroad semester cut short and having to quarantine alone on campus for two weeks before being allowed to be around others or go home. Ten NC State students were in this predicament, and Chef Lesley Schatz, RD LD, was responsible for keeping them fed as they rolled in and needed nourishment over a four-week period.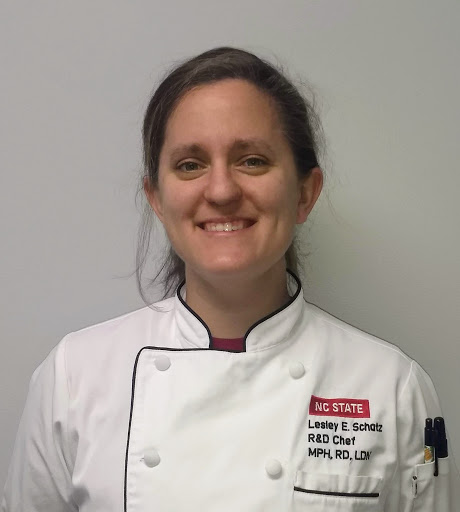 Lesley put together a welcome kit of food staples for the students to enjoy, then she would take their lunch and dinner orders and deliver it to their doors. She even included encouraging notes.
"Thank you all so much for everything, the bag of goodies and the letter nearly made me cry," wrote one student. "I appreciate you all being here for me in this dark hour."
"Thank you so much for all you have done for me these two weeks," wrote another. "You have made my time here so much better!"
All students have been released from quarantine.
WOLFPACK OUTFITTERS
A small but mighty crew of staff have continued to support the operations at Wolfpack Outfitters, both leading up to the closure of their stores and Talley Student Union, and currently to support online sales.
During NC State spring break, and the start of the extended spring break, the entire store staff was focused on maintaining a clean and sanitized store for our university community, according to Jeff Halliburton, senior director for NC State Stores, which includes Wolfpack Outfitters. As the university started the transition to online learning (and teaching,) Peter Dickerson, Bill Blades, and the technology department supplied a number of laptop computers to students, faculty and staff members to ease the transition to the Work From Home scenario that was quickly becoming a reality.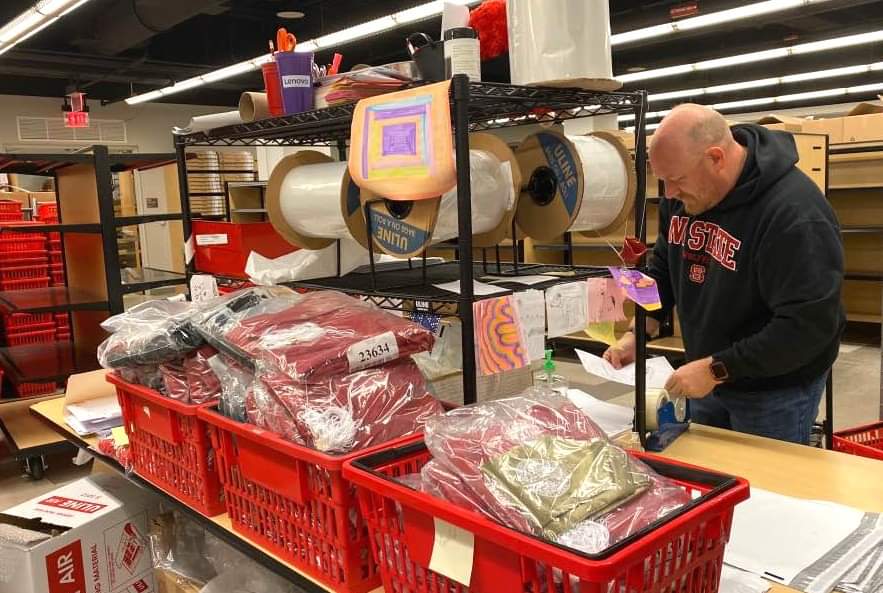 "Once the store closed to the public, online operations have remained open and continue to support our students, faculty, staff and alumni," reported Halliburton. "Nathanael Barnes, Scott Brennan and some of their teammates have been processing online orders – including graduation regalia and textbook purchases – as we continue to provide support to our student community. They have also been supplying NC State gear that is getting worn frequently in Zoom meetings around the world."
Even with this semester moving online, summer school starts soon, and the planning for the fall semester continues. Chris Walsh and the course materials team are working closely with professors and instructors to ensure that the right textbooks – both physical books and digital versions – are available when our new terms start.
STUDENT CENTERS FACILITIES
Kenny Dowdy and Lamonte Daye serve as supervisors for the facilities enhancement team at the Student Centers. While their team primarily provides housekeeping services for Talley Student Union, Witherspoon Student Center and Carole Johnson Poole Clubhouse at the Lonnie Poole Golf Course, they also provide critical facilities management with building checks and work orders for lights, leaks and other issues needing attention. They work in tandem with our student employees to ensure our facilities are well maintained and provide a positive guest experience.
On a typical day, if there is such a thing in the student centers, you may not see them much since Lamonte starts his day at 4:00 a.m. and ends when most people are just rounding the bend at 12:30 p.m.; Kenny starts his day at 7:30 p.m. and crossing paths with Lamonte at 4:00 a.m.
These days they don't cross paths, but instead, split time to provide seven-day-a-week coverage on campus monitoring all three buildings. They now share duties such as coordinating package and mail delivery for the Talley Student Union occupants, combing the facilities for any malfunctions that would normally be spotted by occupants during the course of a day, and disinfecting and cleaning for the remaining critical functions in the buildings of responsibility, especially the Lonnie Poole Golf Course, which continues to operate as an essential business.
"You really get a chance to appreciate a person's contributions in their role when you have a chance to walk in their shoes," said Kenny of his time filling in at the dock on Mondays and Wednesdays. Twice a week, the team has to pick up mail and packages from central receiving points on campus, bring it back to Talley, sort and deliver it so that our Campus Enterprises, OIED and DASA colleagues can pick up their needed items and continue providing their services.
Throughout the Pandemic, information sharing and documentation have become increasingly important as well as a little bit of grace when helping others. But despite all that, Lamonte says that "one of the most important parts I learned is teamwork still works. That together we can come through any challenges that arise" and help is just a phone call or zoom away.
COLLABORATION ABOUND
These are just a few stories of how the Campus Enterprises team continues to carry out the department's business. Accounting, marketing, IT, Wolf Xpress Print and Copy, and human resources are providing critical support functions to ensure business continuity.
"I am really proud of the way this team has come together to support the department and one another," said Rich Berlin, associate vice chancellor for Campus Enterprises. "While we cannot work together in one place, it is evident that this team is committed to ensuring our department remains operational and true to its mission of supporting students and the campus."