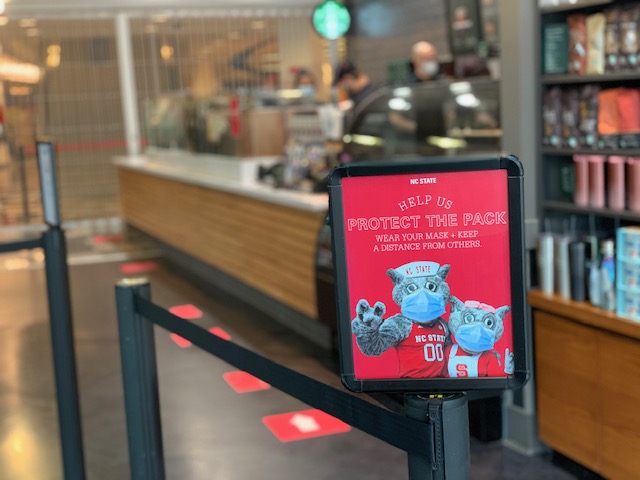 On Monday, May 11, 2020, at 8 o'clock sharp the Talley Student Union Starbucks team opened its doors to welcome members of the campus community, marking the first step of many by NC State University to re-open key spaces in response to Governor Cooper's Phase 1 guidelines.
On Wednesday, more areas of Talley were opened including the Talley Market, the Wolfpack One Card office, and Wolfpack Outfitters for online order pick-up through Friday, May 15. Wolfpack Outfitters will open for in-store shopping on Monday, May 18, 2020. The Talley Student Center will be open from 8 a.m.-3 p.m. Monday–Friday.
The Campus Enterprises team mobilized swiftly, cleaning and providing additional safety measures such as Plexiglas barriers for customer service counters, hand sanitizing stations and directional signage to guide visitors on proper social distancing, all to ensure the safety of staff and guests. In collaboration with University Communications the Campus Enterprises marketing group created a suite of materials that could be printed quickly at Wolf Xpress Print and Copy, including floor stickers to move foot traffic in a coordinated fashion and encourage social distancing.
Staff at Talley Student Union attend to customers while taking safety precautions.
The division continues to utilize its entire staff in efficient ways. The Starbucks team includes staff that normal work in other units such as the Atrium Food Court and Port City Java. "In advance of opening, we spent time training our new coworkers to make Starbucks food and beverage," said Matthew Sykes. "By Monday morning, we were ready to go."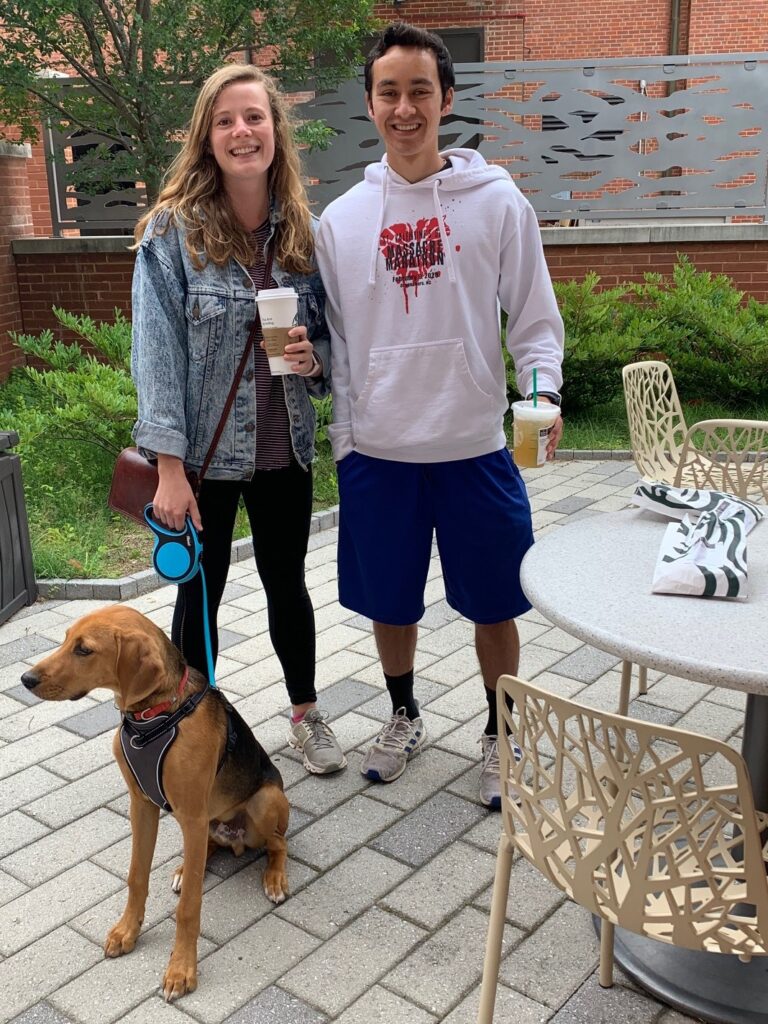 "While the traffic has been slow, it won't take long for the campus to know that we are here for them," said Kitty Lewis, director of NC State Dining's café operations." Patrons longing for even the smallest sense of normalcy were delighted to experience one of their favorite campus destinations.
Hannah Rizza and Ky Tanner, recent NC State graduates, stopped by for a beverage and snack Tuesday with their dog, Much (as in, Too Much). "It's kind of weird and kind of sad," said Hannah. We're moving soon, so it is nice to see everything one last time."
In-store pickup of online orders at Wolfpack Outfitters on Wednesday met with a steady stream of students picking up their summer session course materials. Adapting one of the store's entrances into a pickup counter provided for a quick and safe customer service point.
"We had about 100 visitors picking up orders on Wednesday and Thursday," said Jeff Halliburton, senior director for auxiliary services. "Meanwhile the rest of our staff has been fulfilling online orders that require shipping and preparing the store to open on Monday, May 18. In addition to stocking and cleaning, we're providing wayfinding and protective barriers at the cash registers. We want our staff and customers to feel safe in the store and the rest of Talley, for that matter."
Down Cates Avenue, dining hall operations resumed for Summer Session I at Case Dining Hall, where staff was ready to serve students and essential staff from 10:30 a.m.-1:30 p.m. and 4:30 p.m.-7:00 p.m. daily.
"We are taking a similar approach to all of our dining operations," said Shawn Hoch, senior director for hospitality services. "Face coverings for our staff, gloves, Plexiglas barriers, hand sanitizer, social distancing, and fastidious disinfecting and cleaning. When guests come into our dining hall operations, we provide a take-out container that is filled with items they select. The team has really pulled together. It's been a great effort."
Rich Berlin, associate vice chancellor of Campus Enterprises, echoed Shawn's sentiments. "Our staff continues to collaborate across departments, both within and beyond our division to ensure that facilities like Talley Student Union and Case Dining Hall employ the very best practices and earn the confidence of our patrons. We take the safety and well being of our staff and campus community seriously, and it shows in the work that has been accomplished in such a short time to re-open these critical facilities."