The entire Campus Enterprises team is thrilled to celebrate two outstanding division employees, Denise Fields and Hazar Hamada, for their selection among the six NC State employees to receive the university's Award for Excellence.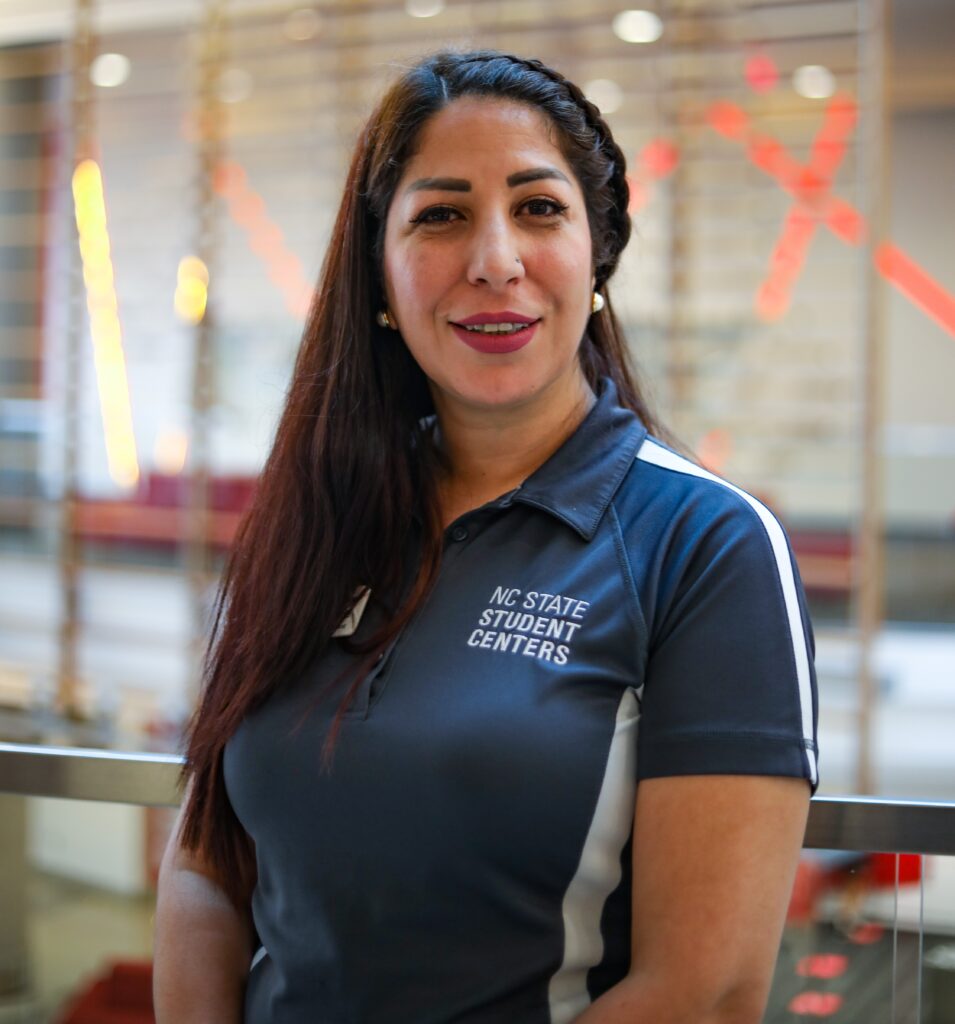 Hazar Hamada, a member of the Student Centers' housekeeping team, and Denise Fields, C-Store operations manager with NC State Dining, were selected to represent the university from the pool of division-level awards for excellence winners hailing from various departments within the university. Employees were nominated by their peers for extraordinary contributions to the university and the community.
Hazar and was nominated for Efficiency and Innovation. According to her nomination, Hazar accepted new responsibilities to help with the mail systems at the Talley Student Union loading dock when the dock manager was unable to return. Hazar went through cross-training and accepted the new challenge in addition to her housekeeping duties. Hazar helped develop new Covid safety protocols which included emailing staff a picture of the package labels so that they were aware of completed delivery and the package location. Hazar improved the protocol for contact tracing by electronically scanning the sign-in sheet and QR code at the loading dock for all unaffiliated NC State visitors, which allowed management to have access in case any emergency issues with contact tracing arose.
Denise was nominated for Outstanding State Government Service. When most students left campus, many of the regular Feed the Pack food pantry volunteers were suddenly unavailable, according to her nomination. Denise stepped in with enthusiasm and helped develop new COVID-19 protocols to keep volunteers and patrons safe and avoid waste. She was also instrumental in securing donations from C-Stores and other dining locations. Denise helped move Feed the Pack forward in collaboration with the students and staff from DASA. She helped negotiate relationships with vendors, made access to a wider variety of foods, and offered refrigerated and frozen foods for the first time. Denise made sure that the NC State community had access to the resources of the food pantry during a time of critical need.
"I am grateful to Denise and Hazar for their support of our community and for their infectious spirit of kindness and dedication to service and hospitality," said Rich Berlin, associate vice chancellor for Campus Enterprises.
Hazar and Denise will represent NC State for the Governor's Award for Excellence in July.