NC State's Wolf Xpress has served the NC State campus for a decade after the university's print production office was converted to a modern quick copy and wide-format print shop. Under the leadership of Wolf Xpress Manager Teri Hellmann, the shop has grown to meet the unique needs of the university, especially during the COVID-19 pandemic.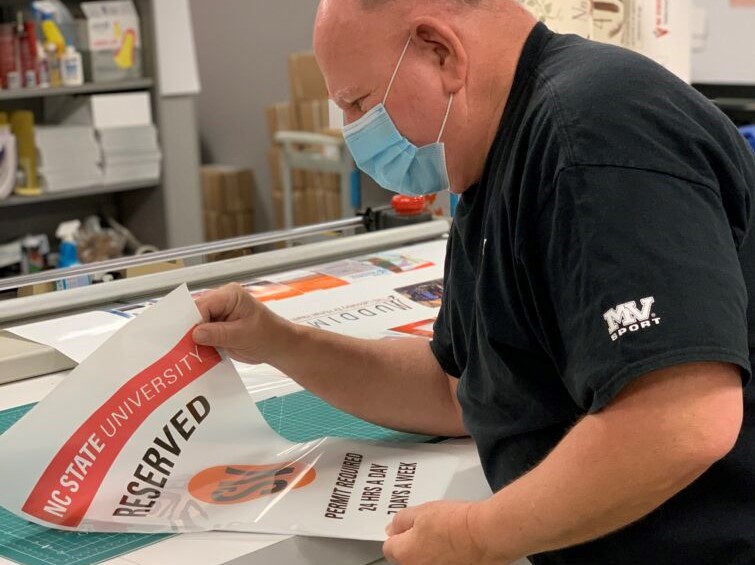 Teri has never been the kind of person to say, "No, we can't do that," which is why Wolf Xpress has grown from its early days primarily making copies for students and staff.
"We can now produce mounted posters/banners, banner stands, annual reports, presentations, brochures, stickers, booklets, coursepacks, business cards and stationery." They have also become a broker for larger orders such as books and tradeshow products like tents and table runners.
"Many departments on campus create books of work that students have completed," she added. "It's a nice keepsake of their time at NC State."
Last year, they were asked by NC State Transportation for assistance with outdoor signage.
"Transportation was doing their own signage and wanted to 'get out of the printing business, so to speak,'" Teri explained. "We developed a program to help them get what they need quickly and accurately."
Throughout the COVID pandemic, it's been less about what they could do and more about how much they could do. "We have been the primary provider of floor decals and laminated mask policy signage," she added. "Communicators from around the university have been collaborating closely on messaging and standards, and we've been in the middle of it."
Wolf Xpress is located on the main level of Talley Student Union. To learn more about their offerings, visit wolfxpress.ncsu.edu.
COVID-related printing by the numbers:
Printed signs: 5000+
Floor decals: 2500+
Variations posters: 300+
Laminated signs: 1000+