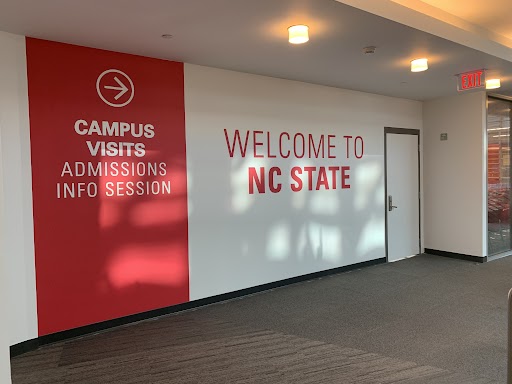 Talley Student Union is at the core of daily university activity, including student life. And now that Campus Visits has moved into the building, it's also the hub for prospective students and their families to kick off their information sessions and campus tours.
Campus Visits is now located in Suite 2121 on the main level of Talley, next to the Passport Services office. The new space was designed to receive visitors and provide one-on-one admissions counseling sessions. This co-location with the Student Centers Information Desk, Wolfpack One Card, and PNC Bank provides a suite of services to help set the stage for a successful on-campus experience.
A new meeting space with seating for up to 125 people was upfitted on the 4th floor for information sessions and group tours.
A number of smaller adjacent spaces were combined to make the new 2,000 square foot meeting space, which is now the largest in Talley (excluding the ballrooms, which are considered event spaces). It features state-of-the-art technology including built-in ceiling microphones, three screens and projectors, and upgraded controllable HVAC and lighting systems. The upgrades allow for in-person lecture presentations with high-quality audio and video, hybrid meetings with the ability for remote participants to fully engage with in-person participants and live streaming of lecture presentations via multiple platforms, such as YouTube, Facebook Live, and Zoom.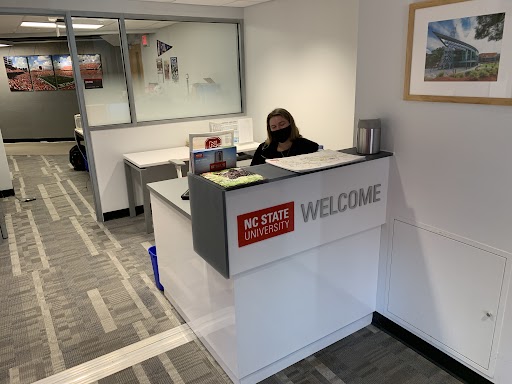 The project has been a collaboration between Campus Enterprises, Facilities, and the Division of Enrollment Management and Services (EMAS), but the new venue will benefit the entire campus community, primarily nights and weekends when it is not in use for admissions information sessions for prospective first-year and transfer students and their families.
A few finishing touches remain due to supply chain issues, such as a new "storefront" entryway. Temporary graphics have been installed in the meantime.
"This new venue represents the continued evolution and adaptation of the Talley Student Union to the growing and diverse needs of the campus," said Rich Berlin, associate vice chancellor for Campus Enterprises. "Not only does this space make a strong first impression for our future students, but it also extends that same high-quality in-person presentation experience to others on our campus who can benefit from using it."
Learn more about reserving the space here.