2023 Orientation with Campus Enterprises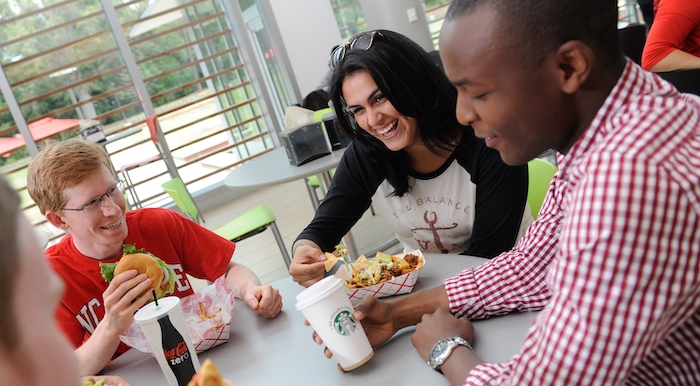 We are Campus Enterprises, but you will better know us as Wolfpack Outfitters, Dining, Student Centers, the Wolfpack One ID Card and more.
Sending your student off to college requires many decisions. We've created this quick guide to make some of these choices easier for you.
Wolfpack One Card
The Wolfpack One Card is your key to many of the goods and services at NC State. It offers the freedom and flexibility of carrying a single card.
Make on-campus purchases through the All Campus account
Access your NC State Dining meal plan.
Link the card to a PNC account to make pin-based transactions (PNC offers special benefits available only to NC State students)
Gain admittance to activities and events
Enter your residence hall and other buildings with restricted access
Work out at the gym
Check out books at the library
Using your card
Your Wolfpack One Card has your photo on it, so no one else can use it.
Spending accounts are accessed using the card's red stripe.
Purchases are debited from the account you choose at the time of purchase.
Access to your residence hall or other restricted area is gained by waving the card over a gray panel near the door.
Protecting your card
Find a way to carry your card for ease of use and, at the same time, protect it from scratches, loss or theft. Lanyards and keychain wallets are popular and effective options.
Lost or stolen cards should be reported during regular business hours to 919.515.3090 or any time at onecard.ncsu.edu/lost. Lost or damaged cards can be replaced for a $20 fee.
Upload your photo
If you haven't done so already, upload your photo at go.ncsu.edu/upload-id-photo before arriving on campus for orientation to ensure your card is ready to be picked up.
AllCampus Account
This is a purely optional account associated with the Wolfpack One Card that makes it convenient to budget and make on-campus purchases. There's no charge to set up an All Campus Account, and there are no transaction fees. Your balance transfers from year to year, and when you close your account, the balance is refunded.
NC State Dining locations
Wolfpack Outfitters
Wolf Xpress Print and Copy
Student Health Services
Wolfprint (campus wireless printers)
NC State Transportation
Campus vending machines
While many of these locations and services take other forms of payment, All Campus is the only form of payment accepted by Wolfprint. If you plan to use this convenient method of printing, be sure to add funds to the account.
Make a deposit
Deposits can be made by mail or in person at the Wolfpack One Card office, located in Talley Student Union. Deposits made using a credit card* must be made online or in person. No minimum deposit is required, but balances cannot exceed $1,500.
*A nominal charge is incurred when making a credit card deposit using our online portal. For fee-free credit card deposits, stop by the Wolfpack One Card Office between 8 a.m. and 5 p.m. weekdays.
Manage On-Campus Accounts
Log onto my.onecard.ncsu.edu to manage both dining and All Campus accounts in one convenient place. You can set up guest access, view transactions, make deposits, set low-balance alerts and report a lost/stolen card.
onecard.ncsu.edu
NC State Dining
NC State Dining offers an award-winning college dining experience with something fresh and healthy around every corner. Consult our website to explore our myriad options across campus.
Flex Plans
Our Flex plans are designed to give you dining options and flexibility to access meals and snacks throughout the day. All first-year students living on campus are required to choose from these plans and will be automatically enrolled in the Flex 500 plan. You will have the option to upgrade to the Flex 800 plan beginning July 8.
FLEX 500
$2,575 + tax / semester
All-day access to our dining halls*
One Pack&Go dining hall/One Earth takeout meal per day
2 dining hall guest passes (per semester)
500 dining dollars (per semester)
FLEX 800
$2,800 + tax / semester
All-day access to our dining halls*
One Pack&Go dining hall/One Earth takeout meal per day
3 dining hall guest passes (per semester)
800 dining dollars (per semester)
*The all-day access included with the Flex 500 and Flex 800 plans requires that 30 minutes pass between each dining hall swipe.
ADDITIONAL PLANS
Flex plans are available to all students, but returning, transfer and students living in fraternity/sorority housing can choose from additional plans. Visit dining.ncsu.edu/meal-plan-options for details. Students on an athletic roster should consult their coach to select an athletic meal plan.
USING YOUR MEAL PLAN
Dining Halls
Flex Plan Swipes or Block Meals
Just one card swipe at our dining halls, and you can eat as much or as little as you like. No need to think about how much you are spending here! Enjoy a variety of entrées, sides, soups, salads, fruit and dessert, including Howling Cow soft-serve ice cream, all for one meal swipe.
All Locations
Dining Dollars
Dining Dollars can be used anywhere, including:
Restaurants and cafés
Convenience stores
Vending machines
Dining Halls
Dining Dollars come with a 5 percent discount at the register! They roll over from fall to spring, and additional dining dollars can be purchased throughout the semester if you run out. Dining Dollars are non-refundable and will expire at the end of the spring semester.
In addition to our meal plans, campus dining locations also accept All Campus, Visa, MasterCard, American Express and Discover. Cash is not accepted.
BILLING
Plans are billed through the cashier's office each semester. Any unspent Dining Dollars from the fall semester will roll over to the spring semester, but they will expire at the spring semester's end.
If you need to make changes to your plan, do so for the fall semester plan by Sept. 12, 2023, and the spring semester by Jan. 25, 2024. A $250 cancellation fee applies after the cut-off date.
Mobile Ordering
Ordering in our restaurants and cafés is easy through the Grubhub App. Download the app, connect it to your student ID/meal plan and familiarize yourself with all of your dining options before coming to campus!
Follow these steps:
Download the app to mobile device.
Create a Grubhub account.
Go to My Grubhub > Settings > Campus Dining > Choose NC State
Add student Unity ID number to directly link meal plan or All Campus account to Grubhub orders.
Select NCSU Campus Card as the default payment source.
Nutrition + Wellness
We place a special emphasis on providing wholesome food and nutrition information to help you pursue a healthy lifestyle that can be embraced long after your time at NC State. Our award-winning nutrition team is here to make sure you have a positive experience when you eat with the Pack.
Allergies + Intolerances
NC State Dining is recognized nationally for our work to ensure students with food allergies and intolerances can confidently dine on campus. We mark the eight major food allergens (gluten/wheat, dairy, eggs, fish, shellfish, tree nuts, peanuts, and soy) plus sesame in all of our dining locations.
If you have food allergies, intolerances or other special dietary needs, schedule a consultation with our registered dietitian, Lauren Smith, at 919.513.5310 or lasmit24@ncsu.edu. You can also access our Food Allergy Guide at go.ncsu.edu/allergy-guide and connect with the Safe Eats Allergy Support Group at go.ncsu.edu/allergy-support-group.
dining.ncsu.edu
Wolfpack Outfitters
Wolfpack Outfitters is the official NC State student store. Shop in-store or online at shop.ncsu.edu.
Computers
Now that you've committed to NC State, it's time to start thinking about your computer needs to ensure your selection meets your college's requirements. We carry recommended models from Apple, Dell and Lenovo.
We offer low academic pricing and the best warranty coverage you get. Find the right computer for your major at go.ncsu.edu/computer-specs
Course Materials
Shopping for the best price on course materials is easy with Wolfpack Outfitters. We work hard to provide the best prices on digital, new and used course materials every day – both in-store and online.
Count on us for the correct title and edition – we curate the official book list for the university.
Use financial aid and scholarship funds to purchase course materials without having to wait for reimbursement, your student can shop for their course materials prior to the financial aid refund date.
Order early and pick up once your student arrives at NC State. We offer convenient order pick-up at our Talley store on Main Campus.
Return any unneeded materials before the census date for a full refund.
Look for your custom booklist this summer
We'll send you an email with instructions on how to access your comprehensive course material list. Order early to ensure they have everything they need on the first day of class. Some classes have many options, including new, used and ebooks. Many professors are combining digital course materials with Moodle through our "All-In" Digital Access program, which is saving students 50 percent or more than the cost of the same used textbook. Learn more at go.ncsu.edu./textbooks
Wolfpack Outfitters
Jobs
Working for Campus Enterprises offers the convenience of working on campus, and it even qualifies for work-study.
Positions start at $10/hour. Most students work 10-15 hours a week, with opportunities to advance and earn more. Students who work in NC State Dining operations also receive one free meal per shift and can earn a $200 retention bonus each semester.
Apply as early as June for your position of choice. If you live in the Raleigh area, you are eligible to start during the summer in some positions to get acclimated early! Remember that we hire throughout the year, so apply at any time.
Go.ncsu.edu/ce-student-jobs