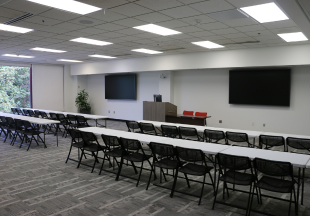 The NC State Student Centers continue to invest in meeting rooms both at Witherspoon Student Center (WSC) and Talley Student Union (TSU) in preparation for the fall semester. These enhancements will directly benefit our students and student organizations.
Upgrades to meeting room WSC 201 went into service for the Fall 2023, just in time for the Symposium for Multicultural Scholars. In addition to new carpet, the space now features an upgraded audiovisual system that supports both hybrid and in-person meetings. New furniture is expected to arrive later this fall.
The new system features full remote conferencing capabilities, including cameras in the front and back of the room, ceiling-mounted microphone arrays and four monitors, as well as the ability to present wirelessly. Similar upgrades have been installed in TSU 4101 and will be installed in TSU 4140, the Governance Chamber, by October 2023.
The Washington Sankofa Room (WSC 126) and first-floor restrooms will continue to undergo renovations throughout the fall semester. Upgrades to the room will be complete in Early Spring 2024. The Witherspoon South lobby and restroom renovations will be completed in mid-fall. 
Visit the Student Centers Events website at https://studentcenters.ncsu.edu/events to learn more about capacities, reserve space and plan your next meeting at Witherspoon Student Centers.