Current space to be converted to seating for students
Wolf Xpress Print and Copy has moved to the first floor of Wolfpack Outfitters. The vacated space, which is located between One Earth and Port City Java on the second (main) floor of Talley Student Union has been converted to provide tables and seating for up to 100 people.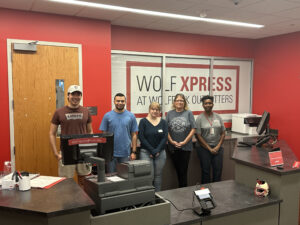 The first floor of Wolfpack Outfitters features computers/technology, school supplies and course materials. The trend toward digital course materials has significantly reduced the need for space dedicated to traditional textbooks, freeing up space for other important operations such as Wolf Xpress.
"Moving Wolf Xpress into Wolfpack Outfitters has consolidated our services into one space and provides additional space for equipment," said Halliburton. "It has also freed up valuable space on the main level of Talley to dedicate to seating for students. Seating in the building is a premium, especially in dining areas where students like to study and eat."
Wolf Xpress continues to offer the same variety of print and copy services from its new location. Later in the year, it will launch an updated web presence with improved order submission capabilities.
For more information about Wolf Xpress, visit wolfxpress.ncsu.edu. For more information about Talley Student Union, visit talley.ncsu.edu.