NC State Dining provides a variety of safe dining options to students with allergies and other dietary restrictions. The program has received national recognition for its efforts to provide an inclusive dining experience for its students, faculty and staff.
Lauren Smith, a registered dietitian and the director of nutrition and wellness with NC State Dining, is at the center of these important initiatives.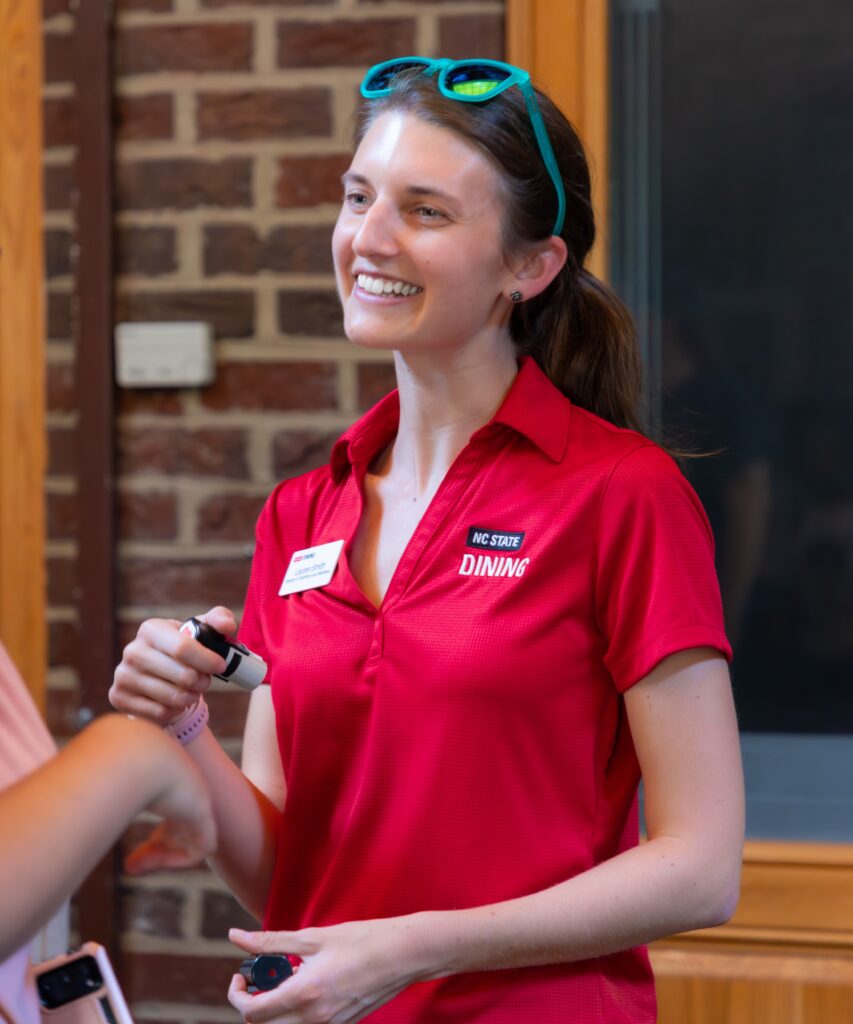 "A big part of my job is working with the culinary team to ensure that what we serve is meeting the needs of the student body," she said."I serve as the bridge between the students and chefs."
Each semester, Smith facilitates allergy training for all of the dining staff. The training covers topics such as preventing cross contact and how to answer questions from students with allergies.
Smith has implemented several initiatives to expand safe eating options across campus since joining the team in 2020. Clark and Fountain dining halls now offer the Simply Made food station, which features food that is free of the top nine allergens: dairy, gluten, eggs, fish, shellfish, tree nuts and peanuts, soy and sesame. For students who cannot eat Howling Cow ice cream in Talley Market, they can now enjoy Dole soft serve, an allergen-free dessert as well as several halal-certified items.
For students with allergies that are not included in the list of top nine allergens, the ingredients for the menu items at each dining location can be found on the Dining website.
Smith also serves as a valuable resource for students with allergies and dietary restrictions or preferences. Students can contact her with questions or concerns regarding their dining options by phone at 919.513.5310 or email at lasmit24@ncsu.edu.
"I've tried to take a more personal approach," explains Smith. "If a student reaches out to me, I will offer to meet and walk them around the dining halls where I will introduce them to the chefs. It's important to me that students feel comfortable and safe dining with us."
The Safe Eats Club at NC State offers students with allergies the opportunity to connect and dine with one another. Members of the club are kept up to date on allergy-related news such as ingredient changes. The club's Instagram page is ncsu_safeeats.
Students and their parents are grateful for NC State Dining's efforts to provide safe and inclusive meal options. One parent shared her feedback:
"My son is a freshman and commutes to school. Eating outside of home has been very limited due to severe allergies to dairy, sesame, peanuts and tree nuts; however, eating at Fountain [Dining] Hall has been one of the highlights of his first year (…) It makes a huge difference to include people – and my son feels included for the first time."
For more information about dining options for those with special dietary needs, visit our website.