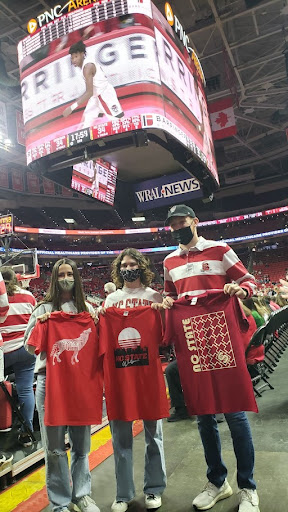 NC State Architecture Student Kelly O'Neil took first place for her t-shirt design in Wolfpack Outfitters' 13th annual student t-shirt design contest. Her design – called "Landmark Wolf" features a wolf made from words associated with campus landmarks.
O'Neil's winning design was revealed as the winner at the NC State men's basketball game against Boston College on February 24, 2022.
The annual contest was open to current NC State students. After receiving just under 200 designs from approximately 90 students, a panel of judges narrowed the submissions down to just five finalists. The designs were then voted on by the NC State community with a total of 3,247 votes, and O'Neil's design won with 37 percent of the votes.
The Landmark Wolf design is available for purchase in-store and online at Wolfpack Outfitters for $16.95.