Campus Enterprises is a department at NC State that encompasses employment in Dining, Student Centers, Wolfpack Outfitters, Lonnie Poole Golf Course, and more. As one of the many faces of employment at NC State, Campus Enterprises has a vision of inclusion, diversity, and equity that ensures all colleagues feel included, considered, and part of a team.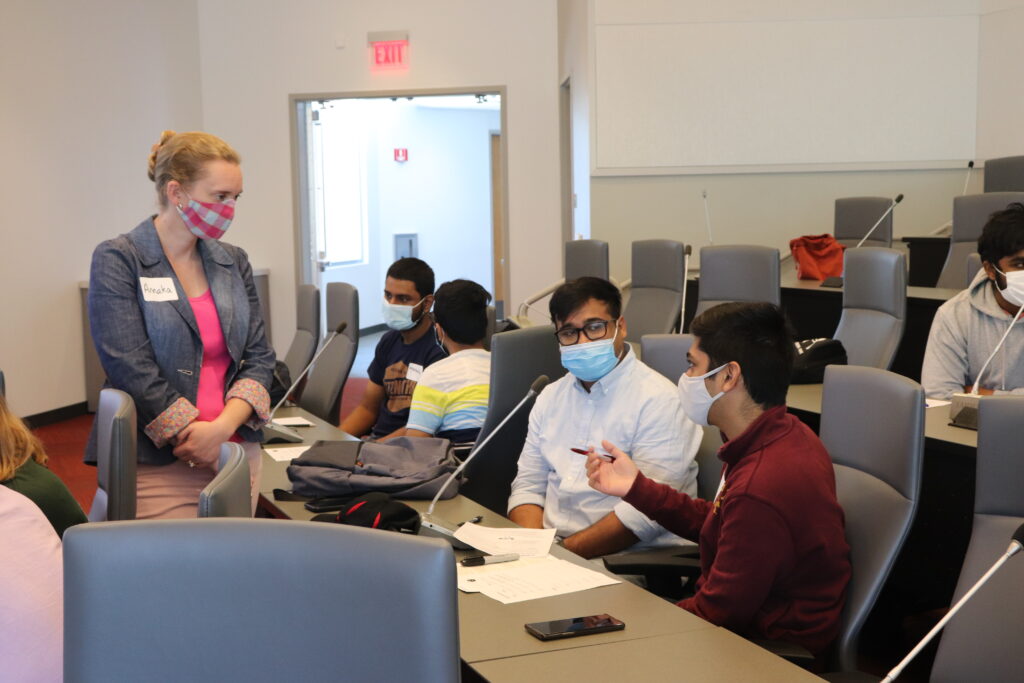 In 2021, the Office of Institutional Equity and Diversity and Campus Enterprises worked together to create an equity course to help improve employee knowledge of equity principles, a course that we've named "AdvanCE Equity." AdvanCE Equity is based on the online modules that the OIED had already offered to the campus community, Managing Bias and Diversity: Inclusion in the Modern Workplace. Campus Enterprises wanted to adapt the existing online content into an in-person workshop. We did so for a simple reason that some may overlook: that not everyone has access to a computer or has the technical knowledge to complete the online workshops. By offering several in-person sessions in the spring of 2022, we gave our employees the opportunity to choose which method was most convenient for them. We also translated many of our presentation materials to accommodate our employees who speak languages other than English, including Spanish, French, Vietnamese, Karen/Burmese, Arabic, and Amharic.
Campus Enterprises also recognizes that, in the long term, it will be important to help increase its employees' access to and comfort level with technology, so that training initiatives like the OIED online workshops can be made available to employees efficiently. The division is partnering with Staff Senate and other groups on campus for a Digital Access and Literacy Initiative to address the needs of staff who do not use computers regularly as a part of their work. Staff Senate is hosting a summit on April 5 to learn about the issue and brainstorm solutions.  More information is available at https://calendar.ncsu.edu/event/digital_access_and_literacy_summit.
Beyond training efforts, Campus Enterprises has also taken steps to make our recruitment and hiring processes more inclusive. Entering into the 2021 spring and summer hiring push, and following furloughs and high turnover, the division embarked on a refreshed recruitment initiative. All hiring supervisors were strongly encouraged to participate in the Office for Institutional Equity and Diversity (OIED) online or in-person search committee training. Further, all search committees were required to participate in the division's new search committee consultation, where Campus Enterprises Human Resources leadership walked through the best practices for a successful hire.
During this time, the division's recruitment efforts expanded to include more national exposure for permanent vacancies. In addition, the division revitalized (due to a pause in hiring during COVID-19) collaborative partnerships with local organizations, such as Dress for Success, Raleigh Immigrant Community, Passage Homes, just to name a few. Sharing all of our vacancies with these local organizations not only enhances the community interest in working with NC State and Campus Enterprises but also provides diverse applicant pools.
The diversity of Campus Enterprises' workforce is an accurate representation of the world, and we will continue doing our part to make it the most inclusive university division possible. By using a wide variety of recruitment sources, our goal is to continue to broaden our global representation throughout the hierarchy of the organization. Campus Enterprises is proud to be a community that brings people together and makes sure everyone feels like they belong. Our desire is for everyone who works at Campus Enterprises will understand and embrace the finer points of equity and diversity, and provide the benefits of a broader perspective that allows for everybody to feel included and appreciated.
For more information about training or the Digital Access and Literacy Summit, contact Annaka Sikkink at avsikkin@ncsu.edu. To learn more about career opportunities in Campus Enterprises, visit go.ncsu.edu/ce-jobs.