NC State Student Centers recently provided upgrades to enhance spaces and provide needed amenities for students.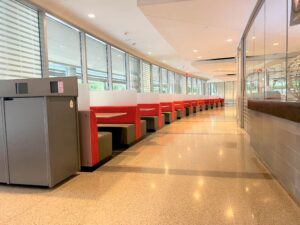 Electrical outlets were added in multiple spaces at Talley including seating by Port City Java and One Earth, a 4th floor open lounge, and outside at the South Terrace overlooking Cates Avenue.
New furniture and carpet were installed along the glass between One Earth and Port City Java to increase seating not only in this space, but also throughout Talley.
New waste receptacles in the Talley Pavilions and One Earth dining that better integrate with and streamline waste diversion efforts.
New gallery lighting and ceiling are being installed in the African American Cultural Center Gallery located in Witherspoon 218.
"The provision of an updated lighting system will significantly enhance the African American Cultural Center gallery as a place with the ability to host more varied exhibits from a variety of artists, creating more access to the arts for our students," said angela gay-audre, director of the African American Cultural Center. "Such access allows students to visualize the types of art they can dare to create. It also promotes the venue as a multi-use space, enhancing the ways in which the space can be utilized outside of exhibitions."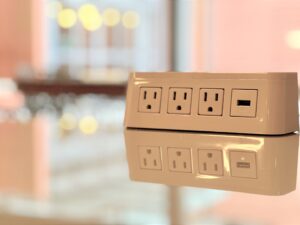 Student Centers Director Tim Hogan stressed the importance of maintaining and updating these spaces.


"The student centers are important hubs for student life and activity," he explained. "They are places that tell the stories and house vital services for our campus, and we have a duty to steward and improve these spaces to meet the needs of our students, staff and alumni."
Campus partners were integral to completing these projects. These include Procurement and Business Services, Waste Reduction and Recycling, Campus Enterprises, and Facilities Design and Construction.